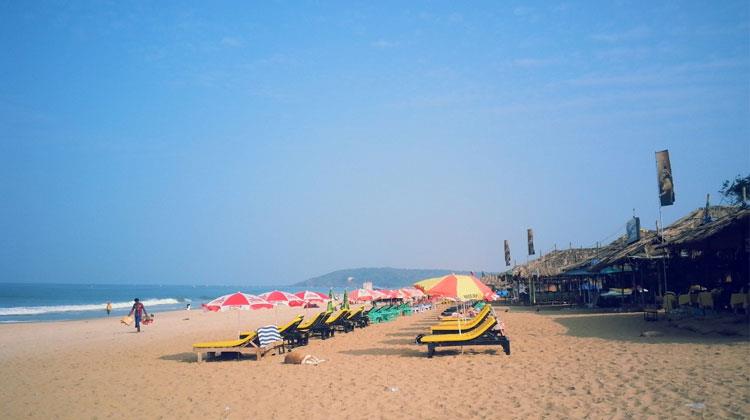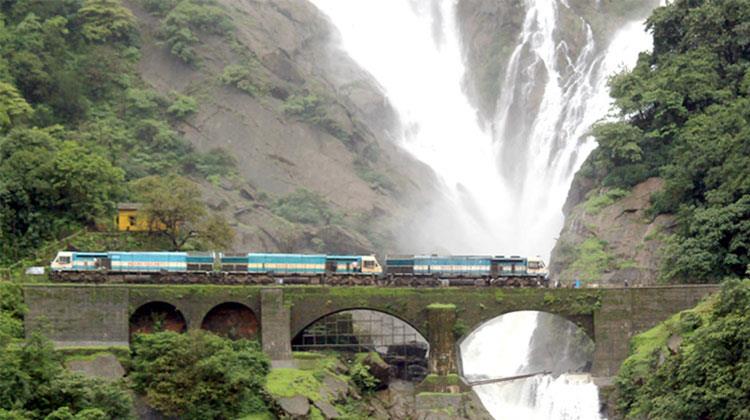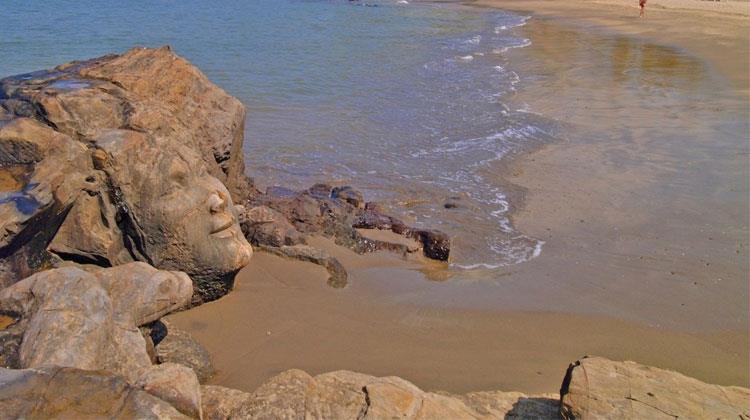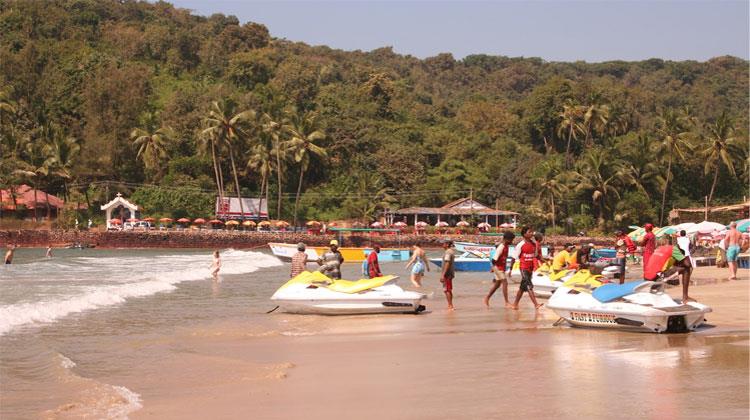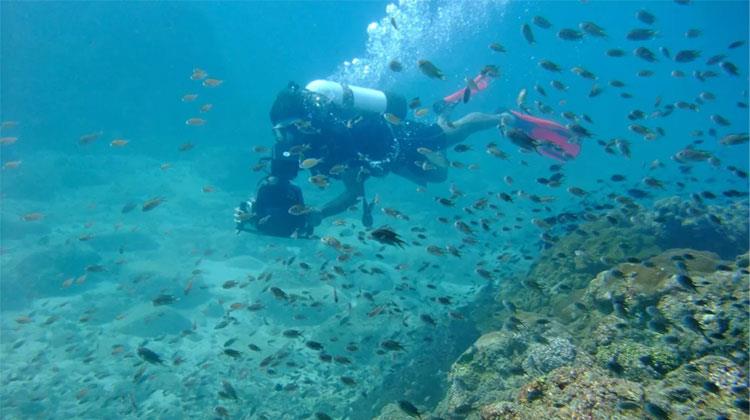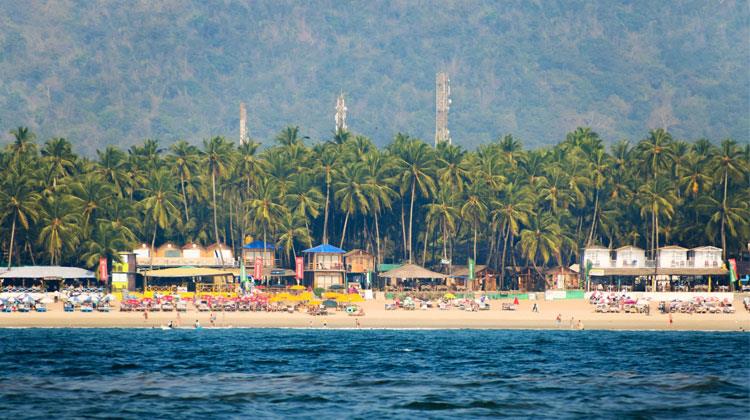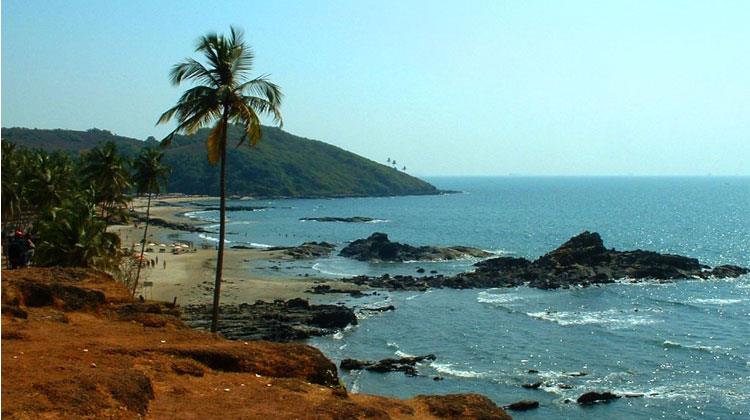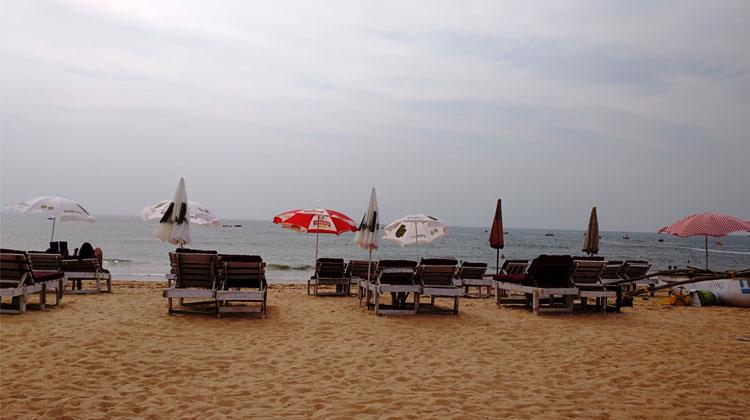 Calangute Beach
One of the most popular beaches in Goa and also the largest beach in North Goa, Calangute beach is among the most recommended tourist places in Goa and popular with both domestic and international tourists. It is also the busiest and commercialized beaches in Goa and during peak seasons, this beach is swamped with people from all over the world. It offers a long coastline with an amazing view of the sea and the beach front is dotted shacks, restaurants, clubs and shopping outlets. Once can also enjoy a plethora of water sports at Calangute beach.
Anybody and everybody who has been to Goa would have visited Calangute beach, popularly known as the 'queen of beaches'. It easily tops the list of top places to visit in North Goa.
Dudhsagar Waterfall
Literally meaning a sea of milk, Dudhsagar Falls is a 4 tiered waterfall located and the 4th tallest waterfall of India. Located at a distance of 46km from Madgaon, the falls appear spectacular during monsoons after been fed by the rains.
There is a railway bridge which passes right in front of the waterfall and passenger train passing through the fall tend to always slow down for passengers to view the fall up close. Unfortunately, there is no viewing platform or site for tourists to take in the full view of the enormous waterfall. Some people do get down at the Dudhsagar station and walk backwards on railway tracks, but that is certainly not recommended.
Ashwem & Arossim Beach
Not everybody loves crowded beaches. For those looking for some serenity in Goa, Ashwem beach is kind of an oasis. Located in North Goa, around 27 miles from Anjuna beach, this beach is quite opposite to what the popular North Goa beaches like Baga or Calungute are. It is quiet, clean, less crowded and peaceful. White sandy beach with a smattering of restaurants and hotels scattered around the beach area.
Arossim Beach is another such South Goa travel destination or rather beach. Located at a distance of 12 kms from Margao, this beach also is a peaceful paradise with dazzling white sands and swaying palm trees. This beach is also famous for 2 very popular beach shacks; "The Star Fish" shack and"The Venus" beach shack. Excellent food (both Indian and international) and awesome views are 2 primary reasons why these 2 places are hugely popular.
Baga Beach
Baga Beach is the most famous of all Goan beaches and as a tourist visiting Goa you really haven't been to Goa if you haven't been to Baga. Full to the brim with activities you can indulge in, Baga Beach and its surrounding areas will not give you time to get bored. There is always something exciting going on here. In the morning, the beach is a great place to lounge in, soak in the sun and interact with tourists from all over the world.
When you're done with the sun, it is time to take in the salty sea winds with some adventurous water sports in Goa. Head over to lunch at one of the many restaurants that populate the beach and which offer various dining options. If it is fine dining you want, you can take your pick from some of the top restaurants of Goa. But even if you're just in the mood for casual food, you can find some pretty good places near the beach which will delight your appetite.
Night is the time when the beach virtually comes alive. Lots of great party options make Baga Beach an amazing beach to party the night away. Tito's, Café Mambo, Kandy Club and many more clubs make Baga beach a party haven every night.
Grand Island
There is no dearth of water related activities in Goa, of course. But while the different beaches up and down Goa offer tourists many options, these options are not to be found all in one place. Not so in grand island. Grand Island is the nirvana of Goan water-sports. There is a lot to be experienced here from diving to snorkelling to fishing. Scuba diving in Goa is the most popular activity because it offers so much in terms of underwater exploration.
There are ship wrecks to be found here as well as some reefs. The :Suzy" wreck and the "Davy Jones Locker" are especially popular with divers as are Serge City, Bounty Rock, and Turbo Tunnel. Experienced and beginner divers both find something to satisfy in Grand Island. You can also go snorkelling. Professional instructors will provide the equipment and the instructions. Bumper boats and banana boats are also popular around the island.
Palolem Beach
Palolem is one of Goa's most beautiful beaches, or at least used to be till it got overrun by commercialization in the form of huts and hawkers. Nonetheless, its peaceful waters bordered by headlands are still very attractive. It is a popular tourist attraction of South Goa. The location makes its sea calmer than others and you can walk almost 100m into the sea with ease. Not only are there many things to do on the Palolem Beach, there are many things you do in the nearby locality.
You can participate in an early morning yoga class for one thing. You can also dance at the offbeat Silent Noise Disco. You put on headphones provided by the club and party into the early hours of the morning without any worry about the police interrupting you because of the noise. There are also many sightseeing options like the Monkey Island and the Cotigao Wildlife Sanctuary. Both places make a good day trip around Palolem.
Anjuna Beach
Goa is one of the most toured places in India. Anjuna, a small village on the North coast of Goa, is amongst those few places to see in Goa which receive a lot of tourists. The Anjuna Beach is arguably amongst the best beaches in India. The beach has the perfect picturesque background with hills.
The beach is blessed with beautiful red laterite rock. Hundreds of people visit the Anjuna Beach every day and enjoy themselves by relaxing on the beach. A flea market is held on every Wednesday in the Anjuna beach. People from all around the state come to this flea market as one can get amazing products at really cheap prices here.
Candolim Beach
Running from Calangute Beach on one side to Fort Aguada on the other is the Candolim Beach. The day activities offered on this beach are its best attraction. You can perform a whole host of activities on the beach including a vast array of water sports, all at very reasonable prices. You can choose to spend some time at Candolim Beach and then head over to Calangute next door or just spend all your day on this beach and explore the sights nearby.
Renting a scooter in order to get around freely is the best option and will only cost around Rs.300/- for the day. Many churches and chapels dot its neighborhood and there is also an old lighthouse which stands inside Fort Aguada. The Fort Aguada Jail is also a tourist attraction. The best part about Candolim Beach is that it has significantly lesser footfall. You can enjoy the beauty of Goan beaches along with the activities they, have to offer without the crowds of Baga or Calangute. This also allows other activities to flourish on Candolim. Yoga is one such example.
Arambol Beach
Arambol Beach is located in North Goa and first became popular when people came to it in order to escape Baga and Calangute beach crowd. Today it is famous in its own right and draws several tourists, though not in the quantity that Baga and Calangute do. This is a good beach to visit if you are searching for a place that combines adventure sports in Goa with relaxation. The strong winds on the headlands around the beach make it an ideal spot for paragliding and kitesurfing.
These sports are more well-known on the Arambol scene than the water sports which characterize the other beaches of Goa. The village of Arambol is a little distance away so you can get a feel of authentic local life if you step by the house sometime. Accommodation is available in the many huts that have come up around the beach and the food options around the place are many and varied owing to the numerous shacks that line the beach. If you want to step away from the crowd for a bit, you can walk onwards to Mandrem to the south. Kalacha Beach, north of Arambol, is where the best paragliding in Goa takes place.