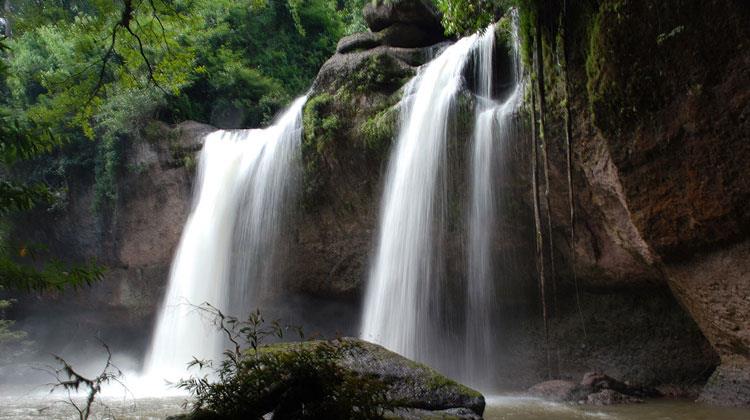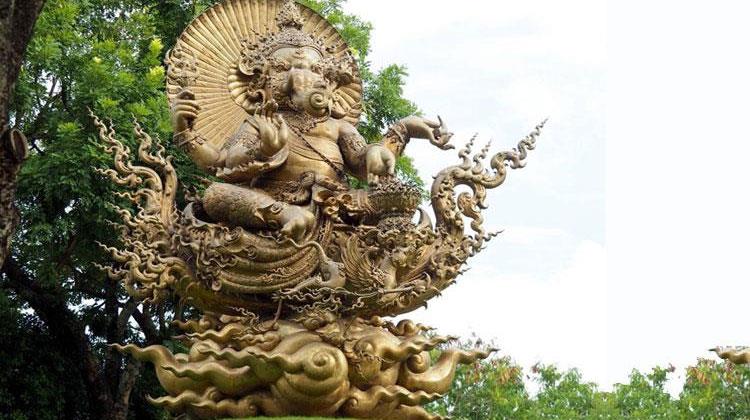 Haew Narok Waterfall
In our minds, the Haew Narok Waterfall was Khao Yai National Park's most impressive waterfall. It was said to tumble in three drops combining for a total of over 150m in height. However, we were only able to see the uppermost leap from an overlook at the end of a 1km (each way) trail. Despite our attempts to get a more comprehensive view of the falls, we ultimately had to settle for a view of just one of the three drops, which you can see in the photo at the top of this page.
From the official car park, the walk started off flat and relatively wide through a dense jungle area. It eventually crossed over a bridge spanning a gorge and stream containing what would ultimately feed the waterfall.
Khao Yai Art Museum
Hidden away on a small hill before you reach the national park, the 1,700-sq-meter space features the private collection of leading businessman Pongchai Chindasook. The gallery is packed with contemporary works by leading Thai artists, from Chalermchai Kositpipat's sculptures to Lampu Kansanoh's oil paintings, while the outdoors incorporates a sculpture garden. The grounds also hold six modern residences, called the Art Space––priced at B30,000 and B35,000 a night, they sleep up to 8-10 guests. There is also an art shop, while Anya Restaurant opens Friday-Sunday.