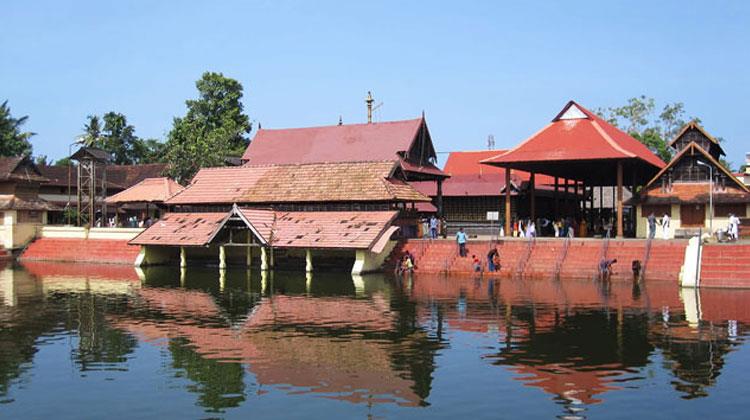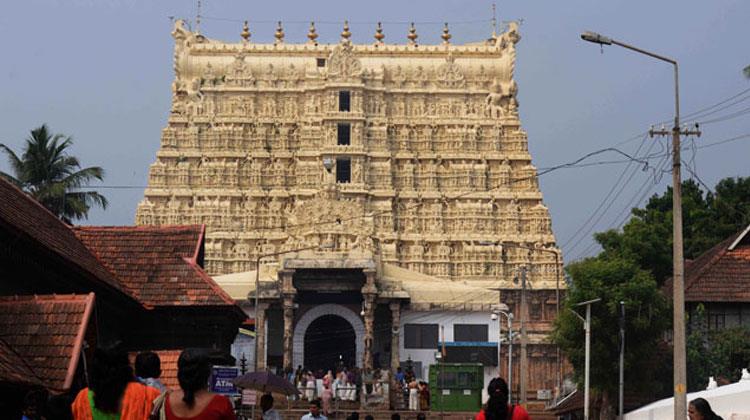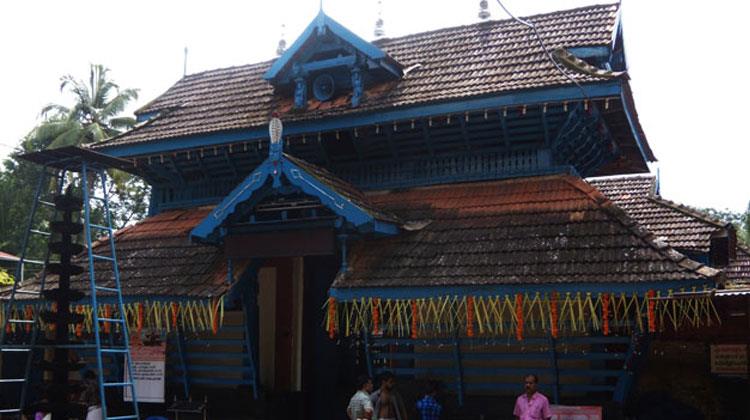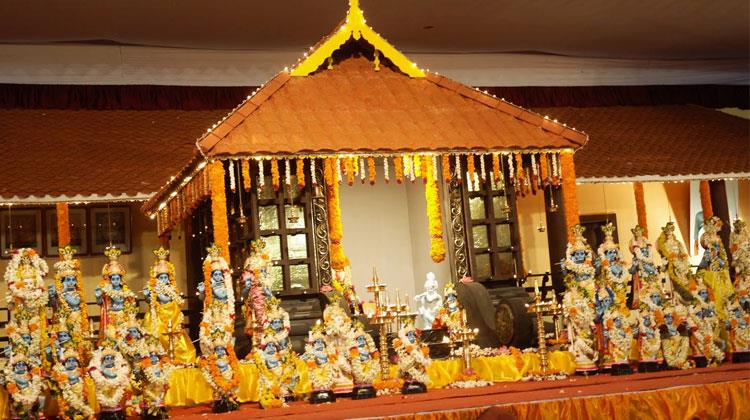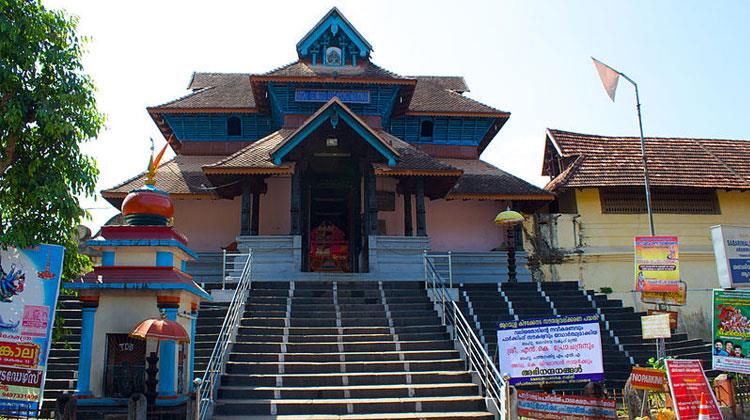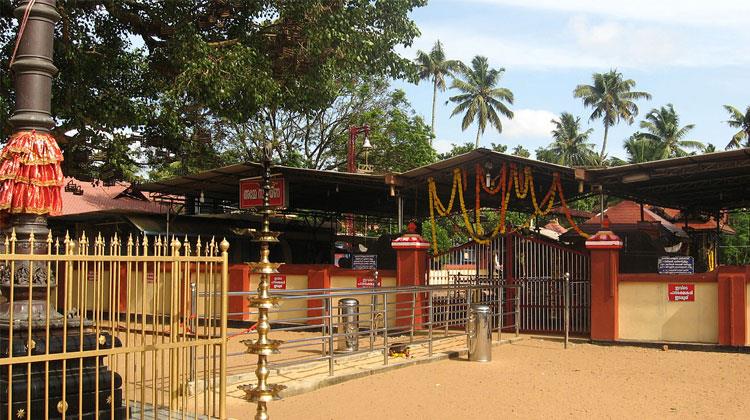 Guruvayur Temple
Guruvayur is the third largest abode of Lord Krishna in India. The divine architect Vishwakarma designed it so well that on the very first day of Malayalam New Year, the first rays of sun falls directly on the feet of the Lord. The center of attraction is the idol of principal deity who stands straight wearing a holy Basil garland. He carries Panchajanya, Kaumodaki, Sudarshan Chakra and a lotus in his four hands respectively.
Beside the idol, a gilded 70 feet tall Dwijasthamba (flag-staff) also grabs the attention. Another thing to be easily spotted in the temple are the Deepastambas. An amazing view is created when these 24 feet high light pillars containing thirteen circular receptacles are lit.
Due to the idol being a replica of the image of Lord Vishnu as seen by Devaki and Vasudev at the time of Krishna's birth, this place is also known as 'Bhuloka Vaikuntha'. Titled as the 'Dwarka of the South', this holy shrine allows only Hindus into the premises.
Thiruvananthapuram
The 260-year old Sri Padmanabhaswamy temple has brought Trivandrum into limelight. The meaning of Thiruvananthapuram is 'City of Lord Anantha' and it is derived from the presiding deity of Anantha Padmanabha Swamy Temple situated here.
The sanctum sanctorum is considered to be the world's richest temple. An intricate mélange of the Dravidian and Kerala style architecture amuses anybody who visits this place. It houses the idol of Lord Vishnu in eternal yogic sleep pose on the serpent Adisheshan. This holy place is one of the 108 Divyadesam of Hindu God Vishnu.
Everyday new alcoves, containing tons of treasures, are discovered from here. However, the exact number of chambers and the accurate amount still remain a mystery. It is a common belief that two cobras are safeguarding the treasure chambers and whosoever tries to access them will deal with an unfortunate fate.
Thrissur
Known for ancient temples, mosques, churches, Thrissur is named after Lord Shiva. The holy abode of Shiva at Asokeswaram Siva temple, Vadakkunnathan temple and Irattachira Siva temple, makes it a must visit place for Shivaites.
During its initial stage, Islam was encouraged here. A mosque built in temple style is appreciated here and depicts the cultural legacy. This mosque is believed to be the second one after Medina.
The reason for Christians visiting this holy destination is to offer prayers at the third tallest church in Asia, known as the Church of Our Lady of Dolors. Thrissur is also blessed with the first church of India, St. Thomas Church at Palayoor. St. Joseph Church is the largest pilgrim center in the district and is found in Parvaratty.
Kottayam
Kottayam has rich cultural legacy and is naturally bewitching. It is a galore of attractive shrines and also a gateway to numerous other. The Pallippurathu Kavu, Thirunakkara Mahadeva Temple, the Saraswathy Temple and Thiruverpu Temple are some of the wonderful sanctum sanctorum accredited for making the city pious.
With due reverence to Christians and Christianity, ancient churches like St Mary Church, St Mary's Knanaya Church, Vimalagiri Church and St Mary's Forane Church etc. still retain their colonial style architecture.
The Muslim community admire to offer Namaaz at the Thazhathangady Juma Masjid. All this makes it an important religious place in Kerala. All in all Kottyam has something for everyone. Be it for a pilgrimage or for exciting vacation, you won't regret your decision of choosing it as your holiday destination.
Pathanamthitta
The pilgrimage hub of Kerala, Pathanamthitta is enclosed within midlands, highlands and lowlands. This holy place attracts followers of 'Vaastu Vidya' from every nook and corner as it practices the same at Vassthu Vidya Gurukulam.
Besides this, the festive zeal of this place never fades away as numerous social and religious festivals and fairs are always celebrated with great enthusiasm. Christians also flock together in February for 8 days festival at Maramom. Pathanamthitta is also visited by Muslims alike for Chandanakudam festival.
Rightly known as the 'Headquarters of the Pilgrimage Tourism', this is the place where communal and religious harmony go hand in hand. A pilgrimage to this place is surely getting one step closer to God.
Kollam
Located on the shores of Ashtamudi Lake, Kollam is famous for its serene backwaters but also has some attention-grabbing significant temples. Built in traditional elaborate architectural style, temples here follow strict rituals. One of them being that while visiting the temple, men should wear dhoti while women should be in sari.
Dedicated to Lord Ayyappa and much like Sabrimala, Achankovil Temple outstands amongst the rest. The idol of the Lord is made up of Rudrakash and is worshipped along with the idols of Poorna and Pushkala, two wives of the God. This holy shrine is famed for curing the snake bites.
It is really enthralling to witness the unity in diversity at the Oachira Temple. The surprising factor is that there is no temple structure here. Rather, it is situated near Oachira Town Mosque and is famous for a ritual known as Oachirakkali.